Rentlist

Branding
Web Design
UI/UX Design
Prototyping



Rentlist is an apartment finder website I designed during my time at Designlab. It allows users to search for apartments in specific areas and filter results based on defined criteria. I prioritized user needs throughout the design process, resulting in a visually appealing and intuitive interface for a streamlined apartment search experience.



Task Flow

This task flow outlines how a user can search for an apartment in a specific area, refine results based on criteria, view details about an apartment, and contact the owner. The entire project was focused on streamlining this process and prioritizing user needs.

Logo

I chose the name Rentlist after some research and brainstorming. For the logomark, I combined the letters R and L with an abstract shape of an apartment. I chose Lato, a modern sans serif type for the logotype, and developed a color palette later in the project.
Icons

To ensure a consistent design system, I created custom icons that complement the logomark. They feature a single color and stroke for a cohesive look.

Style Tile
I created a style guide that includes the colors, typefaces, imagery, buttons, and icons to be used. This guide serves as a reference for maintaining consistency and creating a cohesive design for the website.
Wireframes

When designing the wireframes, I focused on defining the content, structure, and layout of the core screens in the website's primary user path. Additional information for each screen is provided on the right side for a more comprehensive understanding.

High-Fidelity Desktop Mockups

Based on the refined wireframes, I designed hi-fi mockups using Figma. Below you can see the five main pages that are based on the initial task flow.

1. Landing page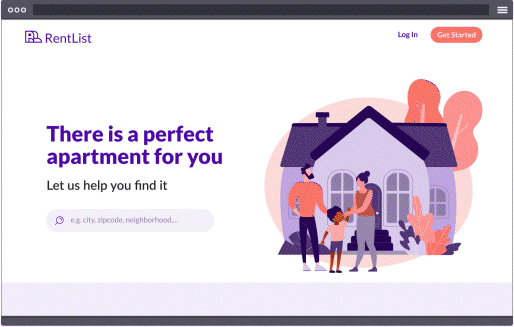 2. Login page
3. Search result page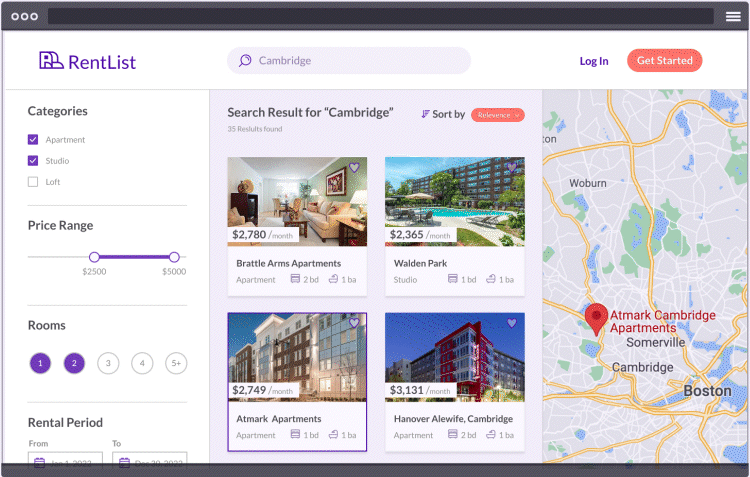 4. Apartment page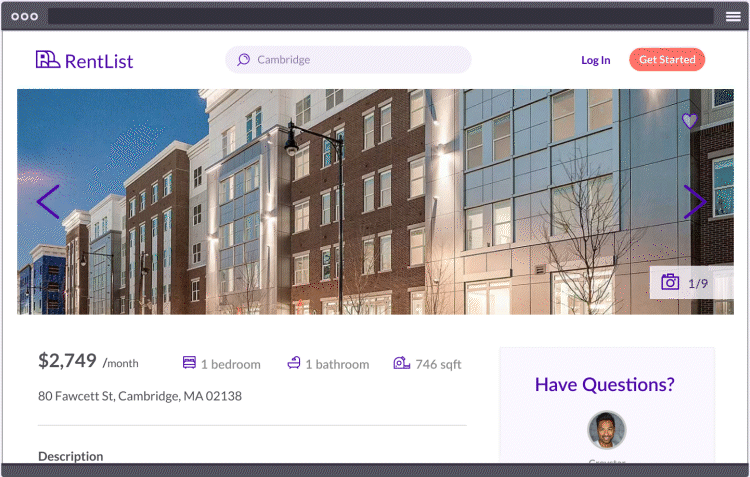 5. Contact page
High-Fidelity Mobile Mockups
I incorporated responsive design principles into my work by creating a mobile version of the desktop mockups. I adjusted layouts, content, and design elements to ensure optimal user experience across different devices.
Prototypes

The prototypes below allow you to experience firsthand how Rentlist's website and mobile app can be used to complete the apartment renting task.










If you want to see more of my web design work you can check out these project ︎︎︎